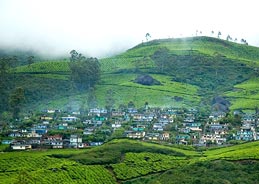 Munnar is a popular hill station in the state of Kerala. Famous for its tea plantation, Munnar served as the summer retreat of British. The hill station is located at a height of 1,600 m above the sea level. Over the years, it has become a major tourist attraction in Kerala. The natural beauty of Munnar is due to the rivers Madupetti, Nallathanni and Periavaru that flow through the place. Anamudi, the highest mountain peak in South India, is located here. Munnar town is divided into two parts, namely Old Munnar and Munnar. The prime tourist attraction of the region is Eravikulam National Park, where you can get the opportunity to see Nilgiri Tahr. This national park also houses animal species like Gaur, Lion-tailed macaque, Langur and Elephants.
Tourist Attractions

Eravikulam National Park
Eravikulam National Park is ideal for nature and wildlife enthusiasts. This beautiful national park is located 15 km from Munnar, at Rajamalai Mountains. Visitors can spot rare and endangered species of Nilgiri Tahr along with other animal species such Gaur, Lion-tailed macaque, Langur and Elephants.
Mattupetti
Mattupetti is home to a highly specialized dairy farm known as the Indo-Swiss Farm. More than 100 varieties of high yielding cattle are being reared in the farm, which was founded in 1961. Mattupetti also has a lake and a dam, making it is a perfect picnic spot. Visitors can enjoy splendid views of Kundala Tea Plantations and the Kundala Lake from this location.
Echo Point
Echo Point is a small lake situated in the middle of regular hills. The place has been named as Echo Point due to its natural 'echo' effect. Due to this echo effect, it is one of top tourist attractions in Munnar.
Kundala Lake
Located 23 km from Munnar, Kundala is a very beautiful lake with splendid views of rich forests. There are boats available for hiring. Tourists can have a pleasure of riding while enjoying the scenic forests and hills.
Top Station Munnar
As the name suggests, Top Station in Munnar is top tourist place of the region. The place is ideal for nature lovers. This place is also famous for Neelakurunji, a rare flower that blooms every 12 years.
Power House Waterfalls
Visitors can see the magnificent Power House Waterfalls on the way to Thekkady. The site provides splendid views of scenic western mountain ranges.
Rajamala
Rajamala is a popular tourist attraction of Munnar, because serves as the natural habitat of Nilgiri Tahr, a rare endangered species of mountain goat. The place provides picturesque views of its neighboring areas.
Pothamadu
Munnar is famous for its tea, coffee and cardamom plantations and Pothamadu is the ideal place to have an excellent view of these plantations. This place is perfectly suitable for trekkers and nature lovers due to presence of rolling hills, rich mountains and breathtaking scenary.
How to Reach Munnar

Air
The nearest airport is Nedumbassery Airport, which is 135 km away from Munnar.
Rail
Aluva(120km) and Ernakulam(140km) are the two nearest railway stations to Munnar.
Road
Munnar is well connected with other cities of Kerala by road. The nearest major cities are Thekkady, Aluva, Cochin and Coimbatore (Tamil Nadu).