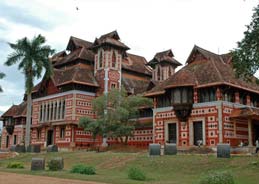 Located on the southwest coast of India, Trivandrum, also known as Thiruvananthapuram, is the capital city of Kerala. The largest city of the state is also a prime tourist attraction of South India. This ancient city has an impressive history dating back to 1000 BC. The city grew up into a major academic and cultural centre, under the patronage of Maharajas who ruled it. Trivandrum is famous for Sree Padmanabhaswamy Temple, which has been declared as India's richest Hindu temple. Being the capital of Kerala, Thiruvananthapuram is also the political centre of the state. The city has a wide and well connected network of roadways and railways. It is among the top tourist destinations in Kerala. It receives lakhs of international and domestic tourists, every year. There are a number of tourist sites spread across this beautiful city.
Tourist Attractions

Sree Padmanabhaswamy Temple
Sree Padmanabhaswamy Temple is not only a historical landmark, but also the most important religious monument of the city. Dedicated to Lord Vishnu, the temple has a perfect blend of Kerala and Dravidian styles of architecture. This sacred temple is famous for the mural paintings and stone carvings and is also one of the 108 temples of Lord Vishnu in the country. Every year, the temple organizes a Navarathri Festival at the Navarathri Mandapam. The temple is open for only Hindus and devotees have to follow strict dress regulations.
Napier Museum
Napier Museum is known for its marvelous architecture, which is a blend of Kerala, Chinese and Mughal styles of construction. Apart from its magnificent architecture, the museum is also known for preserving a rare collection of archeological and historic artifacts. Napier Museum is unique for its natural air conditional system.
Kuthira Malika Palace Museum
The king of Travancore, Maharaja Swathi Thirunal Balarama Varma, built Kuthira Malika Palace. The king called efficient sculptors from Tanjore specially to carry out the carvings and construction work of the palace. The palace is stunning for its single stone carved pillars and meticulously designed roofs. The palace, now converted into a museum, preserves and exhibits the swords and guns of olden times.
Veli Tourist Village
Veli Tourist Village is a popular picnic spot in Trivandrum. It offers boating facilities to its visitors. Tourist can hire pedal boats and can have a pleasure ride over the lagoon. The site also contains a number of huge sculptures, where the kids indulge themselves in fun activities.
Kovalam Beach
Located 17 km from Trivandrum city, Kovalam Beach is one of the top tourist attractions of Kerala. Kovalam is home to two large beaches, which are absolutely safe for swimming.
Vettukad Church
Vettukad Church is situated at a distance of 7 km from Trivandrum. The church is visited by thousands of devotees every year. The annual celebration organized by the church is known as 'Feast of Christ, The King'.
Anchuthengu Fort
Located 36 km from Thiruvananthapuram, Anchuthengu Fort is a historical fort, visited by hundreds tourists every year. The fort was constructed by the British East India Company in the 17th century.
Koyikkal Palace
Koyikkal Palace is an ancient palace built in 15th century. Located 18 km from Thiruvanathapuram, the history of the place states that it was the official residence of Perakom Thavazhi, particularly of Umayamma Rani of the Venad royal family.
Aruvikkara
Aruvikkara is a major tourist and pilgrim centre, located at the banks of Karamana River. The place is home to Aruvikkara Devi Temple, which is a rock shrine dedicated to Goddess Bhagvathi. This site also has a waterfall and a mini- dam, which make it a beautiful tourist attraction in Trivandrum.
Peppara Wildlife Sanctuary
Situated 50 km from Trivandrum, Peppara Wildlife Sanctuary is spread over an area of 53 sq. km. It is an ideal place for natural lovers, due to the rich diversity of the flora and fauna in the region.
How to Reach Trivandrum

Air
One can board flights to major national and international destinations from Trivandrum International Airport, located in Trivandrum.
Rail
Thiruvananthapuram is an important railway station and is included in the network of Southern Railways.
Road
A network of national highways located in Trivandrum connects the city to other major cities in south India, such as Bangalore, Chennai, Kanyakumari and Madurai.