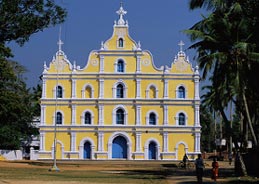 Trichur District (also known as Thrissur) is one of the most populous cities of Kerala. It is also known as the cultural capital of the state due to the presence of a large number of important cultural, spiritual and religious places. The notable ones are Kerala Sangeetha Nadaka Academy, Kerala Sahitya Academy and Kerala Lalita Kala Akademi (Kerala Academy for Fine Arts). People of different communities live in here harmony. There are a number of temples, churches and mosques in the district. Cheraman Juma Masjid, which is India's oldest mosque, is also located here. Apart from its cultural and religious significance, Trichur is also an important commercial and financial center of the state. The district is a dream place for jewellery and silk lovers. Every year, lakhs of domestic and international tourists visit this enchanting place.
Tourist Attractions

Vadakkumnathan Temple
Located in the heart of Thrissur, Vadakkumnathan Temple is among the oldest temples of Kerala. The temple is classic example of the traditional style of architecture of the state. The temple is abode of sacred shrines of Parvathi, Sankaranarayana, Paramashiva and Ganapathi, Sri Rama and Sri Krishna, out of which, the presiding deity is Lord Shiva. One popular legend suggests that this temple has been built by Parasurama. Every year in the month of April, Vadakkumnathan Temple plays host to the world-famous 'Thrissur Pooram', which is the largest temple festival of Kerala.
Archaeological Museum
Archaeological Museum is the ideal place for those people who are interested in exploring information about the history and culture of Kerala. Several temple models, important stone reliefs, Ghandharan pieces and replicas of Mattancherry murals are displayed here. The museum is open for public every day from 10 am to 5 pm and remains closed on Monday.
Guruvayur Temple
Dedicated to Lord Krishna, Guruvayur Temple is one of the prime pilgrimage sites of Kerala. Also known as the 'Dwarka of South', the temple is visited by thousands of devotees, every day. The temple is among the architectural marvels of Kerala. It consists of several mural paintings that show the avatars of Lord Krishna. Every year, the temple conducts a ten-day festival, which is known as 'Utsavam'.
Kerala Kalamandalam
Kerala Kalamandalam is an esteemed institution established by the renowned poet Vallathol Narayana Menon, in 1927. Since then, it has become the leading training school for learning Kathakali dance and other performing arts native to Kerala.
Triprayar Temple
Triprayar Temple, the sacred shrine of Lord Rama, is located in the south of Thrissur. This architectural marvel includes exquisite wooden carvings, fine sculptures, rare mural paintings and is visited by thousands of devotees.
Koodalmanikyam Temple
It is believed that Koodalmanikyam is the only temple in the country that is dedicated to Bharata, the selfless and noble brother of Lord Rama. Devotees believe that visiting the temple can heal diseases and ill health.
Peechi-Vazhani Wildlife Sanctuary
Located 20 km east of Trichur, Peechi-Vazhani Wildlife Sanctuary was founded in 1958. The wildlife sanctuary is spread over a vast area of 125 sq. km. It includes the evergreen forest covers of Palappilli-Nelliyampathi. The wildlife sanctuary is shelter of diverse flora and fauna. It contains a considerable population of mammals, birds and reptiles.
Athirappally-Vazhachal Waterfalls
Located 62 km south of Trichur and on the entrance of Sholayar ranges, Athirappally - Vazhachal are two beautiful water falls separated by a distance of just 5 km. It is a popular picnic spot and attracts a large number of local and national tourists.
Soochipara Waterfalls
These magnificent waterfalls are situated 22 km from Hotel Green Gates. The natural beauty reached its peak at this position and offers an unforgettable experience to its tourists. There are facilities of rock climbing in the neighboring cliffs.
How to Reach Thrissur

Air
You can reach Thrissur by air. The nearest airport is Nedumbassery International Airport in Cochin, which is 58 km away from Trichur.
Rail
Trichur is connected to other parts of India through Thrissur Railway Station.
Road
Trichur is well connected with other major cities of Kerala such as Kochi, Kozhikode, Salem, Coimbatore, Trivandrum, Palaghat and Chennai by roadways.