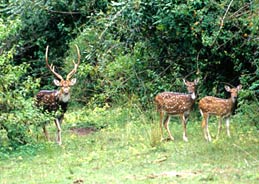 Lying between the Western Ghats Mountains, Wayanad is a popular hill station and one of districts located in northern part of Kerala. Wayanad mesmerizes its visitors with its stunning beauty that unfold in its mist clad mountain peaks, dense forest covers and lush green plantation. This northern district of Kerala is also famous for its adventure sports, making it a must-visit tourist spot for nature lovers and trekkers. The region has an impressive history, which dates back to thousands of years. There are several evidences that suggest that Wayanad Hills were once occupied by people of New Stone Age civilization.
Tourist Attractions

Chembra Peak
Chembra Peak is the highest peak in Wayanad region. It is an ideal place for adventure lovers. The peak offers a tough resistance to trekkers to test their spirits. Generally it takes one day to reach the top of the peak. There are facilities available for temporary accommodation on the top of peak, along with other trekking facilities.
Edakkal Caves
Edakkal Caves are ancient caves located in Ambukuthi Hills in Wayanad district. Visitors can see various ancient stone scripts, pictorial inscriptions of human and animal figures, symbols and various cave drawings inside the caves. The cave has been formed by the split of a huge rock into two rock formations.
Lakkidi
Located 58 km north east of Kozhikode, Lakkidi is among the highest locations in Wayanad. The place offers breathtaking views of pristine mountain peaks, flowing streams and lush green vegetation.
Muthanga Wildlife Sanctuary
Located near the Karnataka border, Muthanga Wild Life Sanctuary is spread over an area of 345 sq. km. The sanctuary is home to various wild animals including elephant, spotted deer, cheetah, wild bear, bison and tiger. There are facilities of elephant rides for visitors.
Pakshipathalam
Pakshipathalam is situated in the Brahmagiri hills at Thirunelli, Wayanad. The deep forest cover along with deep rock caves, which are home to various types of birds and animals, make the place a wonderful tourist spot for nature lovers. It is advisable to get permission from forest department before traveling to Pakshipathalam.
Pazhassi Tourist Resort
Pazhassi Tourist Resort is a popular picnic spot in Wayanad. Special attractions at Pazhassi Tourist Resort include an aquarium, coin-operated toy facilities and boating. This resort is named after the brave fighter Pazhassi Raja, who was also known as the Lion of Kerala.
Pookot Lake
Pookot Lake is a natural fresh water lake, is located 3 km south of Vythiri. This place is known for its stunning beauty and unscathed beauty. It is a popular tourist spot in Wayanad region. There are boating facilities available for tourists.
Soochippara Waterfalls
Soochippara Waterfalls provide a visual treat to its viewers. The height of the waterfalls ranges from 100 to 300 feet. The pool beneath the waterfalls is used for various purposes, such as water rafting, swimming and bathing. From the tree huts at Soochippara, visitors can enjoy the stunning views of valleys of Western Ghats.
How to Reach Wayanad

Air
The nearest airport is Karipur Airport of Kozhikode, situated at a distance of 100 km from Wayanad.
Rail
Calicut is the closest railway station, located 110 km from Wayanad.
Road
There are a number of highways such as NH212 and SH17, which are connected with other major cities in the region.